1. Mental preparation
I support you in managing your emotions, the relationship to your body and food, self-confidence. I help you go beyond your beliefs to push your limits! I guide you to plan the stages of your transformation, with coaching techniques such as visualization used by top athletes.
Using tools such as hypnosis, NLP (Neuro-Linguistic Programming) or self-hypnosis, you explore altered states of consciousness that promote profound changes and durable. They are a powerful lever of motivation and transformation.
2. Physical training
You benefit from tailor-made support: a personalized program aimed at transforming your body in record time or at your own pace while taking maximum pleasure!
I offer coaching adapted to all objectives: lose weight, improve physical well-being, have more self-confidence, manage stress and anxiety, build muscle, lose belly, shape your buttocks, refine your silhouette…ect
3. Nutrition
We create a tailor-made meal plan adapted to your goal, your pace of life, your tastes with the collaboration of a dietician and a private chef to lose weight without deprive yourself, nor take the lead.
You also have the option of having your healthy and balanced meals delivered directly to your home.
3 steps to transform your body with the Transe-forme method
1- Observing
You get to know yourself better to become aware of your mechanisms of success or failure. You will seek your intrinsic motivation, conscious or unconscious, to give meaning to your objective. The famous "big why!"
2- Liberation
You free yourself from behaviors and emotions that weigh you down like food compulsions to finally succeed in your physical transformation with gentleness and lightness.
You put the sport and nutrition levers of change into action to act with confidence and determination towards your physical and mental transformation.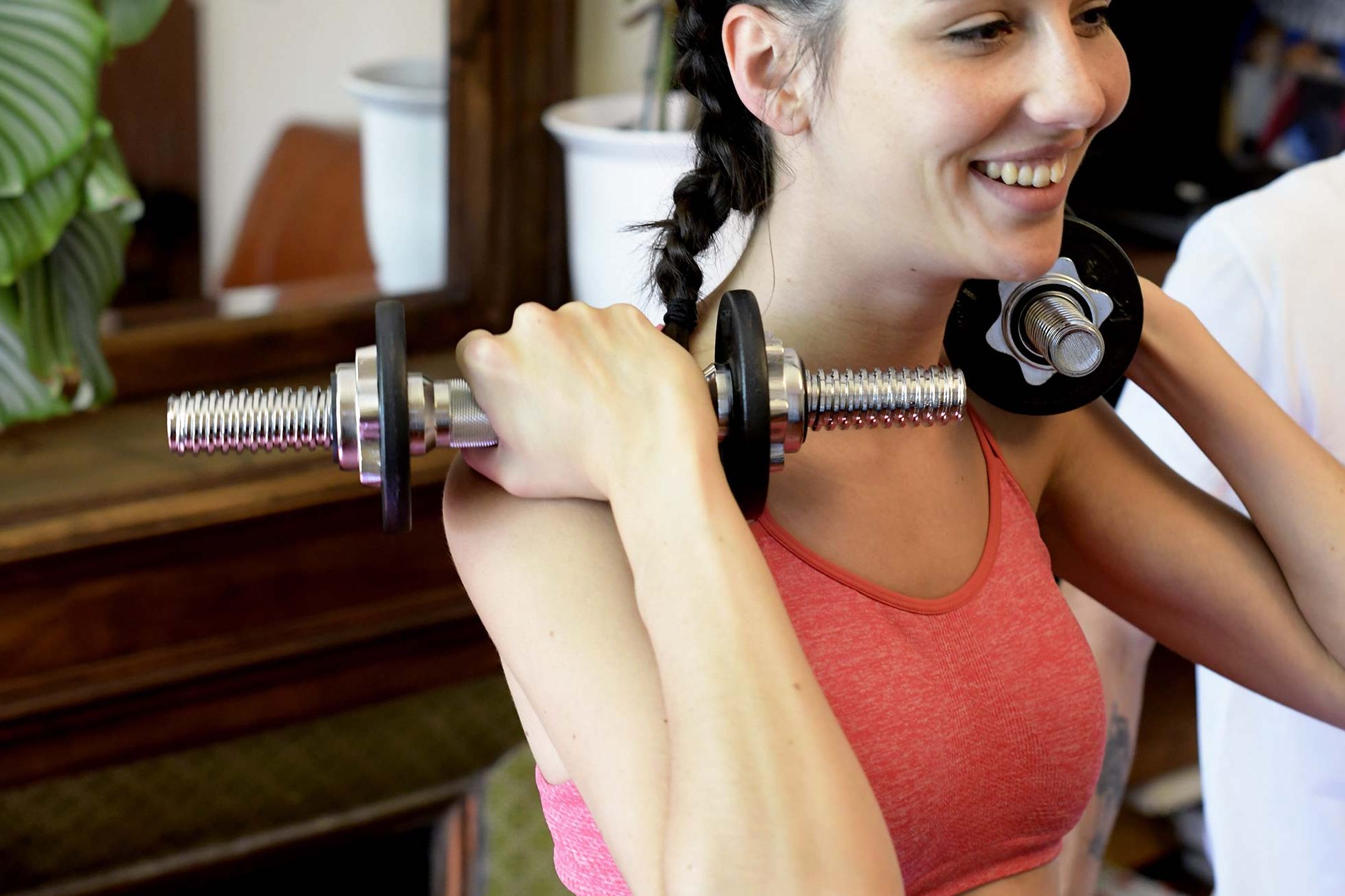 A method that suits you 100%
Through my experience as a personal trainer, I have developed a three-dimensional method that adapts to the needs of each person.
For 10 years, I have been practicing body and soul the profession of personal trainer. When I started, it was for the love of sport. I wanted to share this passion, and above all, to make known the benefits that sport can have on all the different aspects of our lives!
Then, I discovered another passion: that of accompaniment. This is how my profession has become a real life mission, because nothing inspires me more in the world than revealing a person to himself.
Teach you to love your body
At first, I developed my approach on the physical and bodily axis. With my students, I discovered the pleasure of seeing a person draw the body in which they feel good, proud, and even BEAUTIFUL. Do you know, or do you remember, this incredible feeling of pleasing yourself, of finally loving your body? I start from the principle that loving yourself is a fundamental. It is essential to be in tune with your body, so that it really reflects our state of mind.
Understanding what is holding you back
In sports performance, there are "a lot of things going on in the head". This is what I understood during coaching sessions where "something" was blocking, beyond the physical limits of the person.
So I trained in hypnosis and NLP. These two tools have not only changed my life, but also revolutionized my work as a coach.
I immediately associated this psychological and mental approach with my physical training method. It is essential to understand the unconscious blockages to weight loss, for example, and to remove the barriers that prevent the people I accompany from succeeding in their physical transformation. I had finally found a tool that allows coaches to concretely flourish and gain complete and total self-confidence.
Emotions: a powerful lever for transformation
In sports training, we constantly push the limits of the body. In coaching, it's the same! To move forward, you must always push the limits of knowledge! This is why, each year, I passionately follow personal development training to deepen my method. I still lacked one element for my method to be complete: the emotional dimension of the individual.
The hours of exchanges and human encounters, all equally enriching and different from each other, give me direct access to the emotions of the people I accompany: frustrations, fears, concerns related to the gaze of the other, anger or depression in the face of failure, the pleasure of having crossed limits that we thought were insurmountable.
Emotions are a powerful lever for transformation, so let me simply reveal to you that an approach that I call today "tridimensional", which considers as much the body of the person, as his state of mind and his emotions, is an absolutely extraordinary experience to live.
To take total care of you
This approach allows me to consider you in all your dimensions, but also in everything that makes you a unique person. Your life experiences, your beliefs, your needs, your emotions, your pleasures, your pains, your self-esteem are the expression of your own personality, of the exceptional person that you are. It is by taking into account what makes you special, with kindness and respect, that we will discover together the instructions for your physical and mental well-being.
My biggest victory? Watch your eyes shine when you love the radiant person you are!
My mission ? Accompany you towards this discovery or these reunions.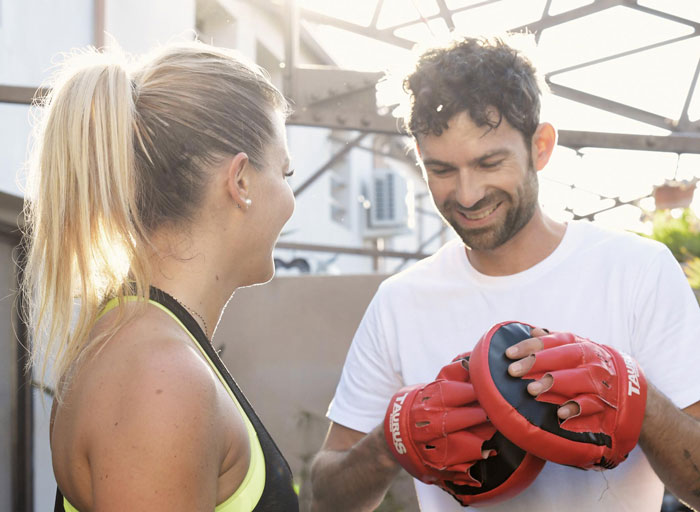 Your testimonials, my greatest reward!
prescillia da mota
16/03/2022
Une très belle découverte. Youri à réussi à créer un lieu agréable et apaisant. C'est un homme chaleureux et accueillant, avec une très belle aura. Un professionnel sérieux qui nous permet de retrouver un équilibre. Encore merci à toi
Hypnose Intégrative
14/03/2022
Youri, en tant que formatrice, J'ai pu observer votre savoir-faire (déjà important) s'étoffer lors de votre formation en hypnose flash/intégrative. Ajouter de l'hypnose en complément du sport est de mon point de vue une excellente combinaison pour la perte de poids rapide et efficace. De plus votre bonne humeur, écoute et ainsi que votre investissement dans l'envie d'aider toujours plus et plus, font de vous un coach sportif compétent qui méritent un grand succès .
Plus que satisfaite du grand professionnalisme de Youri. Au-delà d'être un excellent coach sportif, il accompagne également mentalement. Le lien entre le corps et l'esprit est alors en parfait équilibre Je remercie profondément Youri pour cette grande bienveillance dont il fait part à chaque séance.
Faire du sport un moment agréable ! Se surpasser sans se frustrer… je n'y croyais pas ! Youri a relevé ce défi et s'en sort brillamment. Attentif et professionnel il est à l'écoute de mes attentes sportives et de l'atteinte de mes objectifs. Le tout dans une ambiance agréable et ce dans un environnement qui aspire à la tranquillité. En plus il est à l'écoute !! Venir à une séance triste, fatigué, énervé etc… c'est la garantie de repartir apaisé, joyeux, revitalisé Que dire de plus… merci Youri A contacter sans hésiter
Sylvain Montangerand
18/12/2021
Cela fera bientôt 2 ans que tu m'accompagnes et je te remercie vraiment pour tout ce que tu m'apportes tant sur le plan sportif que personnel. Tu es une belle personne avec une tête pleine d'idées et de projets. C'est un plaisir d'échanger avec toi. A chaque séance je me surpasse. Je constate mes progrès et je sais que je n'y serai pas arrivé seul. Après avoir essayé plusieurs méthodes, seul ton coaching m'a permis d'atteindre mes objectifs. Merci à toi ☺️ Youri est passionné par son métier. Chaque séance est différente. Il trouve le bon équilibre pour chaque exercice, c'est pourquoi les résultats sont au rdv. Je ne peux que vous le conseiller !!
Ambiance sportive et artistique. Youri cultive un art de vivre et non une simple course à la performance comme on le retrouve trop souvent. Un coach à l'écoute, qui sait nous faire évoluer sans se sentir bousculé. Progression et plaisir assurés ! Je recommande !
Steven Cazorla
26/08/2021
Déjà un an que Youri nous suit, ma femme et moi. Par quoi commencez ? Peut être par le fait que nous sommes 200% satisfait ? On est rentré en contact avec Youri après le combo Grossesse + Confinement qui nous a couté au moins 10kg chacun. Youri a su nous rassurer et mettre en place un plan de suivi (sport et diet) efficace et adapté à nos objectifs. Il est très à l'écoute de nos objectifs et de notre état (émotionnel et physique) afin d'adapter la charge de travail au maximum de nos capacités sans jamais risquer d'aller trop loin et de nous démotiver. Au contraire, chaque séance nous amène au plus loin de ce que l'on est capable, on repart satisfait du travail réalisé et les résultats se voient ! Nous avons perdu les kg en trop en moins d'un an. Mieux, on a su rééquilibrer notre hygiène de vie. La réussite de notre collaboration est surtout le fait qu'il a réussi à nous redonner le gout de l'effort physique. Nous revenons toutes les semaines avec beaucoup de motivation (c'était pas gagné, surtout avec une séance le mercredi matin ahah) et recommencerons une nouvelle année avec lui avec beaucoup de plaisir. Pourtant l'objectif de perte de poids est atteint, mais aujourd'hui notre séance hebdo avec Youri est devenu essentielle pour notre bien être ! On recommande à 200% ! Merci Youri pour cette belle année ensemble
Parfois la vie nous permet de croiser le chemin de personnes inspirantes qui nous changent positivement et Youri en fait partit! Quand j'ai pris contact avec Youri, j'étais devenue obèse, complexée et je ne supportais plus mon corps. Sportive mais en perte de mobilité totale depuis plus d'un an, je recherchais un coach sportif expérimenté, très humain, à l'écoute, bienveillant, sans jugement, qui prenne en compte les pathologies, le vécu, la morphologie de chacun et qui soit aussi capable de me redonner confiance et regagner en estime de soi= La Perle rare en fait! et Youri est non seulement tout cela mais bien plus encore La première chose que j'ai remarqué chez Youri est sa passion pour son métier! C'est une personne très structurée qui commence intelligemment par débriefer avec vous de qui vous êtes, vos objectifs de vie et sportifs, il définit une stratégie très claire de là où il veut vous emmener et comment il va le faire, il a des valeurs auxquelles il est attaché qui vous embarque avec enthousiasme dans cette aventure, et enfin il possède une énergie communicative pour vous accompagner dans la réussite de vos objectifs. Aussi, Youri comprend beaucoup de choses sans avoir besoin de les formuler… Un point important réside dans le fait qu'il me fait souvent sortir de ma zone de confort mais toujours en préservant ma sécurité! Aucun cour élaboré par Youri n'est improvisé, ni ne ressemble au précédent(On court, on boxe, on gaine, on squate, on fait du trampoline, on se détend aussi…)et malgré tous ces efforts, je ne vois jamais la séance passer! C'est un grand pédagogue, rigoureux, très discipliné, ponctuel, d'humeur égale, adorable et stimulant, qui fait tout pour vous encourager et vous mettre en situation de réussite. Aussi, l'équipement est de grande qualité, le cadre et l'univers du studio d'entraînement sont magnifiques? Au travers de ses précieuses séances de coaching, il m'a permit de me responsabiliser à l'égard de mon corps, être bienveillante envers lui et rapidement un changement s'est s'opéré. Les kilos et leurs histoires s'envolent comme des ballons de baudruche? Il me fait comprendre que je peux réussir et me faire confiance! Je remercie chaleureusement Youri de m'accompagner dans ce défi?et je le recommande les yeux fermés!!! Le chemin est encore long mais la balade en vaut la peine et je sais que je peux compter sur lui?
Tous les mardis Youri vient à notre Cabinet et nous voilà embarqué pour une parenthèse de 3/4 d'heure de sport ce qui nous permet de nous détendre, nous vider la tête, sans parler des bons moments de rigolades :) Puis vient le lendemain ou nous sentons les courbatures de la veille, mais tant pis on les accepte volontiers et cela prouve que nous avons bien travaillé! Merci Youri pour ta bonne humeur et ton professionnalisme!
A l'écoute, compétent, drôle, coach au top ! Nos séances hebdomadaires durant la pause déjeuner sont toujours des moments de plaisir et de partage. MERCI YOURI !